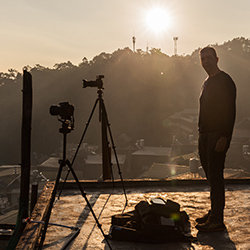 French photographer, I discovered Asia in 2002 while I was making a documentary about Laos
(see Video)
. I really had a crush on this country with his passionating culture. Since then, I have travelled on a regular basis, mostly in Asia. Therefore, photos became for me a way to share the beauty of nature and peoples I have met. Spirituality is a very important matter in my work, I'm fascinated by the profoundness of the ancient traditions, still present in the life of many peoples today.
I take pictures of scene which gives me positive emotion, it could be landscape as well as peoples. I never stage my pictures, I like to consider photography as a meditation where you are in the moment, ready to trigger when all elements combined in order to create a subtle order.
"The real key is to realize that the univers is beautiful. The first job is the contemplation. It's just the quality to perceive." Patrick Burensteinas – Alchemist
"Artists have the responsibility to serve humanity… give people hope." Dalai Lama
Exhibitions
February 2015 – Galerie La Vina – Grenoble – France
"When you practice photography, one can understand that the world comes to us in light and that light is the essence of things. This is also what Nicolas Jouhet photography told us. Photographer in love with mystical Asia, viewing its worth seeing and bringing images that connect Heaven and Earth."
February 2016 – Galerie La Vina – Grenoble – France
Collective exhibition
June 2016 –
UNG
Gallery – Chiang Mai – Thailand
"They are precious moments who let you enter in an another dimension, when Paris wear is white coat is one of them. This fantastic pictures of the city of lights will bring you into this magic atmosphere."
July 2016 – Festival Voies Off – Arles – France
Collective exhibition
From January 2017 permanent exhibition – Wat Jed Yot – Chiang Mai – Thailand
July 2017 – Festival Voies Off – Arles – France
Collective exhibition
Contact
nicojouhet@hotmail.com
France : +33 (0)6 75 06 44 11
Thailand : +66 (0)9 69 46 53 25
LINE
: nicojouhet
Follow me on
Facebook
for news and updates.